MY SPECIAL TOUR
Once-in-a-lifetime TOUR!
CLICK on PICTURE!

BOOK SCENIC and ADVENTUROUS TOURS in this BEAUTIFUL, SUNNY SOUTH AFRICA (SüDAFRIKA)
BOOK NOW for our
SUNNY SUMMER from OCTOBER 2017 until APRIL 2018

YOU can also do WINTER TOURS:
WHALE and HEALTH TOURS and also FLOWER TOURS
in AUGUST/SEPTEMBER 2017 to our beautiful NAMAQUALAND.
THIS IS WHEN DESERT FLOWERS BLOOM, IN MOST AMAZING BEAUTY!!!
Time for whales to see near Cape Town!
Hermanus -- one of the best places for Whale watching, come on my daytours to see whales close by.

Come to this beautiful country at the southern
Tip of Africa, with its fantastic Fauna and Flora, beautiful Mountains and 3,000km of scenic
Coastline with many Beaches to choose from ---
It is well worth the trip!

Contact Me for more info, bookings of any Tour, Accommodation, or just planning your Holidays in Sunny South Africa!
You can also book a special tour to Madikwe, Chobe and Victoria Falls!

Contact Gudrun Anderson-Heinichen, Details are given below:
E-mail:
gudrunholidays@gmail.com
Tel/Fax: (+2721) 8511475
Cell:+27837542493


Please give the following info in
your email:
1. Dates of visit to South Africa.
2. Number of people in your party,
adults and children.
3. Accommodation needed?
4. Carhire needed?
5. Tours you want to do.
6. Your tel.no. so I can contact
you if needed.




GUDRUN IS A MEMBER OF CAPE TOWN TOURISM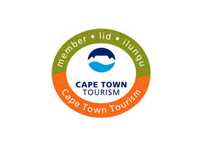 GRF-Tours is a member of Cape Town Tourism!

THE ARGUS CYCLE TOUR -- CAPE TOWN PENINSULA
Cycle the Argus around the most beautiful PENINSULA at CAPE TOWN


Email Gudrun for all your requirements on:

gudrunholidays@gmail.com
A VERY SPECIAL TRIP FOR SPECIAL TRAVELLERS!
Click on picture to see details about SPECIAL PACKAGE to MADIKWE, CHOBE and VIC.FALLS
MY SPECIAL TOUR
Once-in-a-lifetime TOUR!
CLICK
on the above photo for more details!

GRF-Tours can also make bookings
for you anywhere else in
SUNNY SOUTH AFRICA eg.:
DRAKENSBERG
KRUGER PARK
ZULULAND
MADIKWE
BOTSWANA
NAMIBIA
CHOBE
VICTORIA FALLS
and more.